Parking is available. If you have RSVP'd please include
what you will be bringing to help us plan better!

Party Details:
Dec 10th • 7:30-11pm • 1 Old Mill • Party room (Bloor & S Kingsway)



With the holidays quickly approaching all classes this month will be a half hour!

December always comes with challenges on your time. We want to work with you so you can get it (all) done! Our half hour classes are designed for you to get the intensity you need in a short period of time, so there is now no reason to wait till the new year to get started!

Please RSVP by 6:00pm. Classes will happen only when there are enough participants.

Please check the schedule as there will be some changes to start times.

*Pre registered classes and Body Balance and Flexibility will keep the regular length.


TAB will be closed for the holidays from Dec 17th
We will, however, be open on the 29th for class.

The studio resumes regular classes on Jan 5th.





TAB Dollars are available now and can be exchanged for any goods or services at TAB. Not sure what your peeps will like? Give them TAB Dollars!

If you're interested, and the studio is closed, email info @ tabfitness



NO HST ALL DECEMBER! For the next few weeks all items — will be sans HST!

Get your 5, 10, and 20 Class Passes (limit 2). If you're interested, and the studio is closed, email info @ tabfitness


With Roxana Mares.

Restorative Yoga is a gentle style of yoga that uses props to support the body in restful still positions. The focus of the practice is to restore the central nervous system and the internal systems of the body.

Learn more

Presented by TAB

$20 • The Art of Intimacy Introduction
Friday Dec 2 • 7–9pm


Learn more

Presented and organized
by Julie Ward
A Woman's Way Event.








We are so lucky to have Cindy Willems at TAB on Sunday JANUARY 15th
from 1-3pm.

$15

Cindy will be discussing nutrition with Tabbies, friends and family. Let me tell you, her expertise is second to none!

This time of year everyone fixates on the idea of overeating and not getting the proper nutrition. Take advantage of this opportunity!

She is here to chat with us, answer questions and bring joy and confidence to your eating habits. If you have struggled in the past with dieting and your relationship with good food, get off the bad train and take advantage of this opportunity!


And watch our fascinating discussion
on TAB TV!

Cindy has had an exceptionally impressive career as a Pilates teacher, professional dancer and choreographer, working at the prestigious Stratford Festival and several other theatres across Canada and the U.S..

She has over 25 years of experience teaching dance and Pilates to professional dancers, NHL players, children and active grandparents. She has been influenced and shaped by master teachers including Dianne Miller, Irene Dowd and Eileen Birks. Cindy is not only a certified Pilates Instructor, she is also a registered holistic nutritionist and a licensed acupuncturist.

Please RSVP for this workshop by Jan. 9th.








Flourless Chocolate Cake
A recipe by Kathy Smart
LiveTheSmartWay.com


| | |
| --- | --- |
| | INGREDIENTS |
| 12 | ounces semisweet or bittersweet chocolate, chopped |
| 3/4 | cup coconut oil |
| 1/4 | teaspoon fine salt |
| 6 | large eggs, room temperature |
| 1 | cup coconut sugar or sucanat |
| 1 | teaspoon vanilla extract |
| | Confectioners' sugar and/or cocoa powder for dusting |

DIRECTIONS
Preheat oven to 325 degrees F. Spray a 9 by 2-inch spring form pan or an 8 by 5-inch pan with non-stick spray. Place the chocolate, coconut oil, and salt in a pot and melt on a stove over low heat. Beat the eggs, vanilla, and coconut sugar with a stand or handheld mixer until light and thickened (about 8 to 10 minutes). Gently fold the melted chocolate into the whipped eggs until evenly combined. Pour the batter into the prepared pan and bake until a toothpick inserted into the center comes out wet but not gooey (about 1 hour and 25 minutes). Remove the cake from the oven and cool on a rack.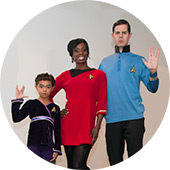 From our family to yours we want to say
"have the most magical Holiday season!"

Blessings to you all
Rhonda & Charles